Deal: flex your fingers and buy the LG G Flex 2 for $250 before it's gone!
18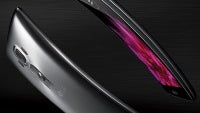 Move over, OnePlus! Where affordably priced flagships are concerned, LG has become second to none. Its 2015 hero phone, the
LG G4
, went below the $450 mark mere months after its reveal. Its 2014 flagship,
the LG G3
, is still the best phone with a 1440p resolution screen you can
get for under $250
. And now, the LG G Flex 2 is up for a measly $250 unlocked on eBay! That's just killer, however you put it.
Launched in early January 2015, the
LG G Flex 2
is the company's first high-profile smartphone for this year. It features an unique curve that's bent to different degrees alongside its length. We'd describe the G Flex 2 as an odd, but nevertheless charming smartphone that was clearly meant to probe the market for flexible phones. The lack of sales means customers need to be impressed more before they put down their money, but this doesn't mean that the LG G Flex 2 doesn't wield some unique superpowers. As if its curve wasn't enough by itself, the smartphone is made of plastic with a self-healing coating that gets rid of scratches by itself!
Specs-wise, the LG G Flex 2 stands out with a 5.5-inch plastic OLED screen, Qualcomm's fiery Snapdragon 810 chip, 3GB of LPDDR4 RAM, a 13MP rear cam with dual LED flash and OIS, and 32GB of expandable storage. The phone runs Android 5.1, topped off with LG's own user interface. Again, all that for $250!
Unfortunately, LG's "poor man's flagship dealer" position is mostly due to lack of popularity, rather than a controlled decision. But if deals like these help put LG smartphones in more customers' minds (and hands), the forward-thinking Koreans might as well take advantage of the exposure! Recently, LG launched a new high-end model, the
LG V10
, which is packed to the brim with technology. Most notably, it features a dual front camera setup, and a secondary ticker display for quick shortcuts and notifications.
source:
qualitycellz (eBay)
via
Android Authority