Deal: Grab a brand new and unlocked Moto X (2014) for just $199
22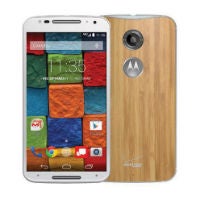 The irrepressible regularity new smartphone releases is a double-edged sword for consumers. Sure, it's great that tech evolves on a near monthly basis, and it's always interesting to see how each and every new effort purports to outdo the last. But this also leaves us embroiled in a constant game of catch-up when, in reality, handsets of yesteryear still more than suffice for most people's needs. The
Motorola Moto X (2014)
might well be considered something of a relic, but if you look past its age, you'll notice that it remains a capable effort from a reliable brand. With this in mind, the new $199 price tag may prove very tempting, especially given its promised Android Marshmallow update in the near future.
Black Friday may be quite a way off, but being the biggest online retailer, Amazon has decided to jump the gun. The precursor to a weekend that usually sparks mayhem at stores across the world, Black Friday isn't scheduled until later this month. But a deal's a deal, and if you're wanting a cheap smartphone with relatively high-end specs, then last year's Moto flagship should cover most bases.
Released in 2014, the 2nd-gen Moto X offers a full-HD AMOLED display over a 5.2-inch canvas and a Snapdragon 801 SoC under the hood. As a word of caution, the 2300 mAh battery may seem sufficient, but in our testing,
scored very averagely indeed
. So if you are planning on biting, consider that the lights mightn't stay on for as long as you had anticipated. Still, with a 13-megapixel rear-facing camera and with a slick, metallic-trim design, it's an unquestionable steal for $199.
As noted above, it doesn't run the latest Android 6.x Marshmallow out of the box. The Moto X (2014) runs Android
5.1
Lollipop off the bat, but owners can expect a dose of Google's latest flavor to arrive eventually.
The unlocked handset is available for a limited time, while stocks last. Given the popularity of the Moto X line in general, Amazon's inventory is likely to disappear quite rapidly. So if a $199 Moto X does take your fancy, be sure to hit up the source link sooner rather than later.