Deal: Amazon is now offering the Motorola Nexus 6 starting at $349.99
18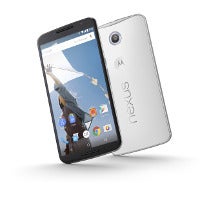 With about a month to go before we get to see the 2016 Google Nexus smartphone lineup, expected to consist out of a 5.2-inch LG-made smartphone and a 5.8-inch Nexus made by Huawei, last year's
Motorola Nexus 6
is probably fading away as far as customer interest is concerned, especially since Google is maintaining the handset's premium price. Despite this, however, Amazon is now offering a very tempting deal on the Nexus 6, which will probably see some Nexus 6 units flying off shelves and into the hands of those with an eye for stock Android implementations.
Amazon is currently offering the 32GB version of the Motorola Nexus 6 at $349.99, with the 64GB version of the handset priced at $399.99. Both the Midnight Blue and the Cloud White versions of the smartphone are available. At this price, customers get an unlocked device which can be used on any GSM carrier such as AT&T and T-Mobile, as well as US warranty. On top of this Amazon is also throwing in free shipping.
Note that these prices are $150 lower than what Google is currently asking for the same handsets. It's safe to say that the Nexus 6 was never as cheap as Amazon is currently offering it.
The Google Nexus 6, manufactured by Motorola, comes with a 6-inch display running a resolution of 1440 by 2560 pixels (QHD), a Qualcomm Snapdragon 805 chipset paired with 3GB of RAM, a 3220mAh battery, as well as a 13MP primary sensor. Although the hardware specs are very tempting to this date, the main advantage of the Nexus 6 over other phablets is its stock Android implementation. The Nexus 6 is likely to be one of the first smartphones to get updated to Android 6.0 Marshmallow when the OS launches this fall. If you're interested in picking up a Nexus 6 for $349.00 from Amazon, make sure to read our
Google Nexus 6 review
before committing to a purchase.
What do you guys think of Amazon's discounted prices for the Nexus 6?