Data shows that Amazon was right to sell Kindle Fires at zero margin
3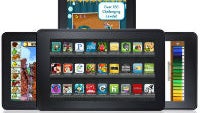 There was a lot of curiosity around Amazon's plans to sell its Kindle Fire tablets at zero margins. The assumption was that Amazon would do well with the strategy, because it had such a rich ecosystem of content. And, some new data is showing that Amazon was completely right to go with that strategy, because Kindle Fire users spend quite a bit more than non-Fire users.
There is a new study from Consumer Intelligence Research Partners is saying that users who own a Kindle Fire tablet spend an average of $1,233 through Amazon per year; and, those who don't own a Kindle Fire average spending of just $790 per year. Now, there will be those who claim that the $443 difference between those two numbers nullifies any potential revenue loss on hardware. But, we would point out that those numbers point to total purchases, and Amazon doesn't get that entire $443 in revenue, not even close really.
Amazon has been running at the same 30% cut that you'll find with Apple's iTunes or Google Play, so even if all of that revenue came from apps, games, movies, music, and books, that would mean just $133 in revenue for Amazon. Of course, if that revenue comes from something in the general Amazon store, the cut is far less than 30%.
Even so, over the course of a device's lifetime, that extra revenue would certainly make up for any shortfalls on hardware. The question is whether or not this extra revenue would hold when shifting to an Amazon smartphone or not.
Recommended Stories