Data is cheaper to transmit, so why is Verizon more expensive?
63
This article may contain personal views and opinion from the author.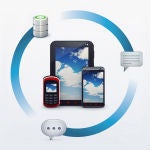 To be fair, this isn't an issue specifically with Verizon, but Verizon does have the easiest numbers to parse right now. According to some research done by
The New York Times
' Brian X. Chen, the trouble starts with the feature that we had been hoping for since the tablet boom started a couple years ago: shared data plans. Those plans make it so while data is now cheaper for carriers to transmit, carriers like Verizon are also able to charge more for that data.
The info comes based on the quarterly earnings report from Verizon, which showed that the carrier's average monthly revenue per wireless account grew 6.6%. The reason for this bump seems to be in that more subscribers are opting for Verizon's Share Everything plans, which allow families or users with multiple mobile devices to have a shared data plan. As of Q4 2012, 23% of all Verizon Wireless subscribers had opted for one of these plans.
The thing is that shared data plans actually come out to be more expensive, or at least the profit margins are higher for carriers, because LTE is more efficient than 3G. Verizon CFO Francis J. Shammo made this explicitly clear during the earnings call, saying:
As more customers choose 4G LTE smartphones and devices, we expect the continued migration of data traffic from 3G to our lower-cost 4G LTE network will drive further improvements in operating and capital efficiency in 2013 and beyond.
So,
the more people use LTE, the more Verizon (and other carriers) will benefit, because carriers can charge a premium for the speed, even though the data is cheaper for them to transmit
. Add in overage charges, or tiered data plans, because faster speeds mean doing more data-intensive tasks, which uses more data, and carriers get to charge us even more.
It all comes down to marketing and understanding. Carriers will cry all day about the costs of building the faster networks, and how hard it is to keep up with the bandwidth demands. And, when consumers look at the cost of a plan, we tend to look only at the speed of the connection and how much data we get. The trouble is that those things that we're primed to look for don't matter on the carrier side. LTE is designed to be able to handle huge amounts of traffic at extremely fast speeds.
So, as carriers move to LTE and beyond, networks get more and more capable of feeding us tons of data at very high speed, and carriers convince us that we should pay more for that privilege, even if the data transfer for carriers gets more and more efficient, and less and less expensive. That doesn't sound like much of a fair deal to us.