Data, data, data: Microsoft getting pushed into more change by Satya Nadella
13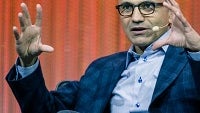 While presenting a new server tool today, SQL Server 2014, Microsoft CEO Satya Nadella, continued to push Microsoft's image, and self-perception towards that of a "data culture."
After a successful presentation and conference at Build 2014, Mr. Nadella, , who just took the CEO position in February, is maintaining the mantra of a more "mobile" Microsoft, a more internet and cloud connected Microsoft, something more than the image of Windows alone.
"Every aspect of Microsoft's business is being fundamentally transformed because of data. You have to build deeply into the fabric of the company a culture that thrives on data," according to Mr. Nadella, "Think of Office as the canvas, or the surface area, or the scaffolding from which you can access the data."
Mr. Nadella's comments were a follow-on to his presentation at Build 2014, a "mobile first, cloud first" environment. That means a more intense focus on internet friendly software (software as a service, SaaS) over the traditional model that thinks about computing in general.
Companies can also start taking part in an early public test version of a cloud-based system for managing data automatically. By doing so, companies can deliver relevant content to users, particularly mobile users, faster.
"It's not going to happen without having that data culture where every engineer, every day, is looking at the usage data, learning from that usage data, questioning what new things to test out with our products and being on that improvement cycle which is the lifeblood of Microsoft," said Mr. Nadella.
Taking that mindset in conjunction with the "mobile first, cloud first" mindset reminds us of how Microsoft is setting the stage for the future. The "one experience" will benefit from such a model. As simple as it seems, such an on-going effort will be important for Mr. Nadella to maintain as it represents a sea change for Microsoft.
source:
Reuters