Gmail for Android is finally getting Dark mode and it is rolling out now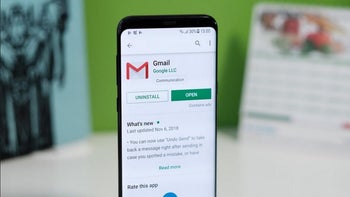 While a system-wide Dark mode is included with the update to Android 10, and Google has added the feature to many of its Android apps, there is still one key app that Android users would like to see with white text on a dark background; that app is Gmail.
According to some Reddit posters
(via
Android Central
), it appears that Google is starting to push out a server-side update to Gmail with a Dark mode option.
When it does arrive on your phone, you will see a trio of choices: Light, Dark and System Default. First, though, you need to make sure that you are running the latest version of the Gmail app, which is 2019.08.18.267044774. While some Android users with the latest version of Gmail have not received the update containing Dark mode, they do report that their Gmail widget is now appearing in Dark mode automatically. You can see if the option has arrived on your Gmail app by opening it and tapping on the three-line hamburger menu icon on the left side of the search bar. Scroll down and tap on
Settings
>
General settings
.
Google has been adding Dark mode to its apps in order to protect users' eyes from the searing white background found on many Android apps, especially those that feature Google's Material Design. These particular apps are known to have patches of white background that can feel blinding and lead to eye strain. Additionally, at night or in rooms with the lights off, the white background on many apps can be a distraction to other people nearby or in the same room. Dark mode helps to prevent this from happening since it inverts the use of black text on a white background and offers white text on a black or dark gray background.
If you don't have the latest version of Gmail, you can find it
right here in the Google Play Store
. Again, there is no guarantee that this will activate the Dark mode option. Once this does rollout to all and sundry, it will be another reminder that Google does try to follow the words of the great philosopher Mick Jagger who once said, "You can't always get what you want. But if you try sometimes, you get what you need."