DROID 2 ad focuses on upgraded QWERTY keyboard and faster processor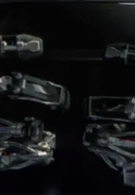 Verizon did not put as much hype into yesterday's launch of the Motorola DROID 2 as the carrier did with the first-gen DROID and the DROID X. The television ad below, while still relying on some computer graphics, focuses more on the improvements that Motorola has made on the sequel unit. For example, the upgraded QWERTY keyboard makes an appearance in the spot. You can even hear the clickety-clack of letters being pressed on a keyboard that looks to be so improved, the owner of the phone can knock out a fairly long e-mail without a problem.
The other major improvement that was made to the DROID 2 replaced the processor on the original unit with a 1GHz CPU. Of course, this debut ad for the DROID 2 makes note of that fact and mentions how zippy the new phone is. So zippy that e-mail can be checked, blueprints examined and a response banged out and sent all before anyone else at this meeting even notices anything strange about this guy.
Motorola DROID 2 Specifications
|
Review
source:
AndroidCommunity