DISH is losing precious time by focusing on Clearwire and Sprint
9
This article may contain personal views and opinion from the author.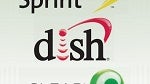 For gadget geeks, this veritable
love quadrangle
between DISH, Sprint, Clearwire and SoftBank may not hold too much interest. If you are like me at all, in addition to totally digging the technology, industry news is just as interesting to follow and this soap opera has been quite engaging. However, from what I have read, it looks to me that DISH, under the leadership of CEO Charles Ergen is pursuing its goals with blinders on, and it is going to be detrimental to the company, its investors and its spectrum if it does not reevaluate its position and tackle its real problem.
CLEARWIRE IS A DISTRACTION
First, DISH is living in a fantasy world if it thought it could ever buy Clearwire. How Mr. Ergen convinced DISH's Board of Directors that it would be a good idea is beyond me given that Sprint is majority owner of the company and has several billion dollars of its own spectrum incorporated into the venture. Even from a pure numbers standpoint, Clearwire is a paradox in that the company's assets are probably worth more than anything anyone would be willing to pay, yet the company is also not worth the sum of its parts.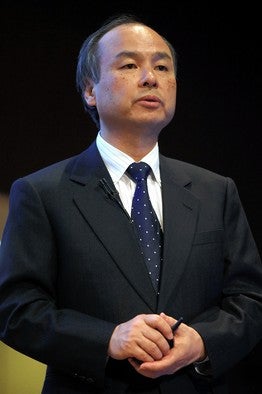 SoftBank CEO Masayoshi Son felt the heat from DISH and upped SoftBank's offer for Sprint by an additional $1.5 billion
From a performance perspective, Clearwire is an ugly duckling, it has never made a profit, its operating margins are near negative-100%, and all the other high-profile partners in the venture like Google, and Intel washed their hands of the company years ago, losing hundreds of millions of dollars in the process. Clearwire's current stock is being inflated by this pseudo bidding war that DISH has no chance in winning. I knew this from the moment it was reported that DISH tried to make an offer for the company.
Of course, DISH's intent might have been to frustrate the pending merger between SoftBank and Sprint all along. Okay, that is an acceptable premise and fits Mr. Ergen's MO. If DISH were to prevail in acquiring Sprint it would automatically get 51% of Clearwire in the process. Though this still does not solve DISH's real problem (yes, I will get to that) and it will certainly complicate things for the company even if it were successful in buying Sprint.
Sprint needs Clearwire to shore up its investment over the years and obviously needs the spectrum to fulfill goals that SoftBank's Masayoshi Son have once the merger with Sprint is completed. Masayoshi Son is also fully financed to buy Sprint, and is basically funding Sprint's takeover bid for Clearwire.
SPRINT IS MORE THAN DISH SHOULD WANT TO HANDLE
Sprint is a company haunted by a series of very bad business decisions. It has good talent, and a decent network. Unfortunately, Sprint's performance over the past six or seven years is also troubling for a would-be suitor. Sprint has been bleeding customers since 2007 as well as profits since it purchased Nextel in 2005 for $36 billion. The company basically signed its 2.5GHz licenses to Clearwire and remains the latter's sole meal ticket for survival. Sprint bet wrong on rolling out WiMAX in an effort to be first on the block with "4G" amongst the carriers. The jury is still out on the carrier's commitment in order to sell the iPhone, but given the return on that investment is expected to take years, it is not a guarantee that Sprint will be on the winning side of that arrangement.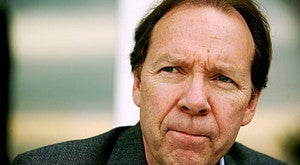 Sprint CEO Dan Hesse has carefully shepherded Sprint through difficult times since 2007
Since the Nextel acquisition, Sprint has been dealing with a massive debt load which all but equals the company's current market cap, roughly $25 billion. DISH, by offering to buy Sprint at pretty much current market value, means spending $25 billion in order to go $50 billion in debt. Now DISH is a profitable company, its margins are good and its returns are solid. However, pay-TV is on the decline which means revenue trends are pointing downward. DISH has been smart in picking up spectrum rights where it could.
DISH is also carrying $11 billion on its own credit card already (and it has not generated the needed financing to buy Sprint yet anyway). If DISH were successful in acquiring Sprint, the satellite TV provider becomes a carrier. That is all fine and dandy but it still does not solve DISH's real problem.
DISH'S REAL PROBLEM
DISH's real problem is that is has squandered the better part of a year since
receiving the nod from the FCC
to build out a network using licensed spectrum in the AWS-4 band which lies just above the current PCS spectrum at 2,000-2,020MHz and 2,180-2,200MHz. DISH holds licenses that cover the entire 40MHz spread. DISH needs to have 40% of its network built in four years (now less than three-and-a-half) and
70% in seven years
. If it misses the four year mark, the remaining three years gets cut by a year. Any licenses not built out by those deadlines are then forfeited.
The argument could be made that DISH will just cherry pick the most lucrative markets and leave the rest as crumbs on the ground. However, what DISH may be failing to understand is that in pursuing a company like Sprint, who has all the major markets covered, it would produce a spectrum overlap that regulators would then most definitely require a divestiture of licenses in overlapping markets. That gets DISH nowhere toward its mandate to build out the AWS-4 network.
The management has to know this, yet when I look through the news releases that DISH has issued over the past six months, there is nothing about what the company is doing to capitalize on the spectrum, only reactions about what Sprint is trying to do to keep DISH from buying Clearwire or how DISH is trying to keep SoftBank from buying Sprint. By the time Sprint shareholders vote later this month, DISH will have invested an inordinate amount of time that will yield the company nothing for the better part of another year.
SPRINT IS NOT THE ONLY OPTION FOR DISH
DISH seems eager to become a wireless carrier, but the truth is that Cable/TV companies are not the best at providing telecom related services. DISH is also hit-or-miss on servicing its core product, satellite TV, because so much of its customer acquisitions are done through licensed installers, not company assets. Moreover, the quality of customer service seems to ebb and flow.
DISH will not be able to operate as it has once it becomes a wireless carrier.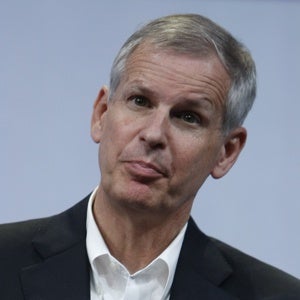 DISH CEO Charles Ergen does not play well with others, likes to disrupt things, but what is plan B?
While DISH will certainly benefit through an infusion of talent by whomever the company buys out, the company is missing out on some very attractive options that can benefit the company and truly position itself as a carrier, wholesaler, or even more by focusing so much on Sprint.
Given that DISH's performance goals amount to only 10% per year (a little more now), and accepting the fact that the company is apparently willing to leverage itself to the hilt (up to and beyond $25B) to buy Sprint, DISH could be working out smaller deals that not only give it not only coverage, but talent and infrastructure to supplement its goals to provide services in rural areas.
One such company to look at is
Telephone and Data Systems
(TDS), and actual phone company that also happens to be the parent of
US Cellular
, a large regional carrier that has service areas covering the mid-west, northwest, northeast and southeastern United States. For a fraction of what DISH is looking to spend on Sprint, DISH could acquire TDS (and by default USCC) and gain a huge asset that puts it in a position to integrate a suite of services that only Verizon and AT&T currently provide in their respective telco markets. Moreover, telecom and wireless billing systems are robust and geared to provide a large amount of flexibility and detail for both customers and the billing company.
Another company DISH needs to examine is
Cincinnati Bell
, yes it is a tiny wireless carrier, and also a small phone company, but its services cover a three state area from Ohio, Indiana and Kentucky. If that is too small, then
C Spire
should also be on DISH's list, serving areas from Memphis, Tennessee to Mississippi, Alabama and the Florida panhandle. Finally there is
Leap Wireless
, which operates
Cricket Wireless
. The company holds licenses which may reach as many as 200 million people across the US.
In addition to these smaller acquisitions, DISH should be contracting with infrastructure providers like
Crown Castle International
, to lease space on some of the
30,000-plus towers
the company operates to build out some of its network.
Do any of these options make as big a splash as a buyout of Sprint would? No, but again, making a splash is not DISH's problem, building out its network is. If DISH hedges too much solely on acquisitions to make its network a reality, it is going to cost the company not only a lot of money, but it could cost it spectrum, a commodity which some would argue a carrier cannot get enough of.
In the final analysis, if DISH has not been able to line up the financing for Sprint at this point, Sprint's shareholders have no interest in waiting on a train that may never arrive. Meanwhile, Sprint has made it clear to Clearwire's Board of Directors that it will not vote in favor of the DISH proposal. If Mr. Ergen put all of DISH's eggs in the Sprint or Clearwire baskets (in any combination) however, it is looking like he may wind up with quite a bit of them on his face, leaving DISH with only three years to build out 40% of
a non-existent AWS-4 network
and starting again from the beginning.
The focus on the Sprint deal seems to indicate to me that DISH is trying to do something "big" rather than something smart, which suits Mr. Ergen's style, but may not suit DISH investors very well when the dust settles from all this.
From where I sit, SoftBank has a vision and a plan (and a track record) to actually disrupt the wireless industry landscape in the US like it was able to in Japan. DISH is acting like a desperate player looking to remake its image and has not revealed much of its plans other than to provide an idea of enabling entertainment content via satellite and wireless. Unfortunately, acts of desperation rarely yield the intended result and if the telecom and wireless industry is anything in this country, it is not desperate.