CyanogenMod9 ICS Alpha build for HP TouchPad released
6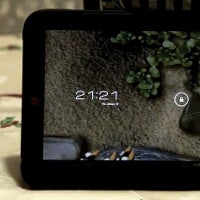 After last week's teaser of
Ice Cream Sandwich running on HP's TouchPad
, the CyanogenMod team is back and this time it's got a pretty functional
Alpha 0 build
of its CM9 for the webOS-based tablet. Now, the focus here is definitely on ICS, but also almost equally on Alpha. As with any such early release, you should expect bugs and limited functionality, but if you can overlook some issues with the camera, audio, microphone, and hardware-accelerated video, you should be pretty happy with this release.
The ICS version also has problems accessing the Android Market, but all of those issues are being addressed, and we expect a new Alpha build to get released soon given the unbelievably quick pace of work.
How to flash the ICS build? You'd need to follow the detailed instructions laid out at RootzWiki (check out the source link below), but arm yourself with patience - the website has gone dark for SOPA black-out day and will only be back at 8pm EST. Not a bad time to
fill a petition against Congress censoring the Internet
, is it?