CyanogenMod 7.2 comes to 70 devices with over 20 new features
7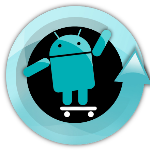 Many of you may be waiting on CyanogenMod 9, but development on that is highly dependent on Ice Cream Sandwich source code being released by manufacturers. In the meantime, Team Douche is still hard at work on CyanogenMod 7 and has just pushed out the first release candidate for the new version, 7.2.
The update is available for 70 devices, which we won't list here, but it does cover most of the most popular phones you would expect, including the Motorola ATRIX, which is one of the 14 newly supported devices. The bigger news is in the updates added to the new version. One of the most interesting is that the phone dialer is now predictive, which could be quite a nice feature. The update also includes a number of features backported from Ice Cream Sandwich, like the new transition and rotation effects.
It looks like quite a nice update, and word has it that this will end the work on CM7.x, which was based on Gingerbread. And, now all the effort moving forward will go towards CM9, which is based on Ice Cream Sandwich.