Cyanogen 9 gets progress update
20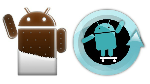 The CyanogenMod team has posted an update about the progress being made on Cyanogen 9, which is built on Android 4.0 Ice Cream Sandwich, and it gives a good insight into who will be seeing the ROM first and why. Team Douche has been relatively quiet on the work until now, aside from a working version for the Nexus S.
Word had come out before that OG DROID users would be out of luck when it came to Cyanogen 9, and that still stands, although the team is working to support devices back to around the Nexus One. The advice from Team Douche is that it may be time to upgrade if you still have an OG DROID. The team also explained that work is going slowly because they have to completely rethink the modifications and customizations that they had built into Cyanogen 7, because Ice Cream Sandwich changes so much of the functionality in Android. Also, the team has to build many drivers from scratch, because ICS breaks compatibility with camera and graphics drivers in order to provide "insane performance."
Apparently, work is moving faster on devices with either TI OMAP, Qualcomm MSM8660/7X30, and Samsung Exynos CPUs, and devices with those chips should see Cyanogen 9 first. There are also a couple Tegra 2 devices, the Samsung Galaxy Tab 10.1 and Asus Transformer, which should also see the ROM sooner rather than later.
source:
Cyanogen