Cut to the chase - Pako is simple, stylish car chasing fun for Android, iOS, and WP autoists
6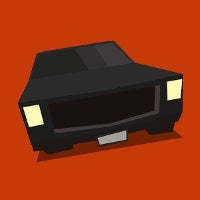 What's better than cars? Car chases, of course! Helsinki game house Tree Men Games has prepared an awesome title for all enthusiasts of screeching tires, police sirens, and massive property damage. It's called Pako, and it plays like GTA: Chinatown Wars stripped of everything but its wild police chases. It's also the first of its kind "endless drifting" game. But most importantly, it's super fun! Drawn in a flat style with bold colors and simple shapes, its visuals seem as if they were ripped straight out of Google's design studio. Pako plays from an isometric perspective that makes everything look tiny, but it gives a magnificent view of the destructive cartoony events you orchestrate by holding on to a simple two button control scheme. "Left" and "Right" are all the controls you have at your disposal. May the God of drifting be with you.
Pako features five detailed areas to wreak havok in - a mall, neighbourhood, cemetery, highway, and a town square in the middle of a civil war. Each area is enclosed - there's no escape, no finish line, and certainly no teleports - and is populated with other drivers, mostly police patrols. Areas go with bespoke vehicles to drive. The mall has a city car that drifts like they do in Tokyo, but it's a nightmare to control. In the suburban setting, you'll collide into stuff with a sports vehicle that's a terrific drive, but you don't have much room to manoeuvre. The cemetery has a hilariously slow green hearse that makes crashing into zombies a pleasure. The highway has you riding in a van - with dodging incoming traffic a necessary option. And at the square, which is run over by tanks that shoot projectiles, by the way, you'll ride a glorious rikshav... or some other three-wheeler, we're not quite sure. Anyway, all levels have one thing in common - you won't make it very far in any of them. Pako is a slapstick game about failing repeatedly and laughing at it. It's also about besting your friends' high scores and achievements, which you can post on Facebook and Twitter.
Pako is one of those bite-sized games that are ideal in every situation apart from a nasty traffic accident. So if you are the impressionable type, you better not sit behind the wheel immediately after playing it. Granted, Pako is not Armageddon, but Lord knows what may happen. The game is totally free and available on Android, iOS, and Windows Phone. You can make a $1.25 in-app purchase to remove the ads and support its talented developers.