Cut the Rope: Time Travel live in the Google Play Store
2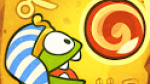 Sorry that this post is a bit late, Cut the Rope: Time Travel actually went live in the Google Play Store last night, but we kind of got distracted by playing the game that we forgot to let you all know that the game was available. The latest Om Nom game from ZeptoLabs hit the
iTunes App Store
early yesterday, and made its way into the Google Play Store later in the day. Given that, we'll make this a bit more of a hands-on with the game.
As you probably could figure out from the title, the game runs through time from ancient Egypt to the Renaissance to Pirates and more. But, the physics-based gameplay doesn't really match the various time periods that it spans. Instead, the main gameplay change is that now there are two pieces of candy and two Om Noms to feed in each level, which does well to ramp up the difficulty.
Each stage still has new tricks like bombs, and chains that can only be cut with saw blades and more. So far, the game is a bit shorter than previous CtR offerings. In the past, each level has had 25 stages, but Time Travel only offers 15 stages per level. But, it looks like ZeptoLabs is taking a cue from Rovio, and each level also has a cartoon at the end. Only the first cartoon is available, and the others will become available periodically.
Cut the Rope: Time Travel is still just as fun as the original CtR and Experiments, and it's highly recommended. There is a
free version available
, and the
HD version
will cost you just 99 cents. Even better, these are universal apps, so unlike the iOS version, you won't have to pay twice.