Court orders three Chinese Samsung units to pay $11.6 million to Huawei over patent infringements
13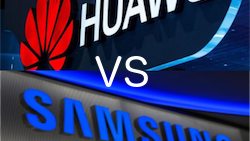 A Chinese court has issued a court order, holding that three Samsung Electronics units have to pay $11.6m in damages for patent infringement to Huawei Device Co Ltd – the company's handset unit. The Chinese telecommunications giant holds over 50,000 technological patents and has been tied in legal proceedings with Samsung for some time now. The report was published this Thursday on a government-run newspaper's website, and is the latest news on a months-long saga between the two.
Both companies submitted
multiple claims against each other last year
– Samsung alleging that the Honor and
Mate 8
handsets unlawfully employed some of its smartphone patents; while Huawei had issued proceedings in both China and the US two months earlier, seeking compensation for unlicensed use of its 4G tech.
The latest ruling marks the company's first legal success over Samsung and orders five firms to stop infringing Huawei's copyright, while three Samsung units will pay the bill. Huawei's claim matter included more than 30 million products, estimated at $12.7bn in sales. It sued for a total of 20 kinds of both smartphones and tablets that incorporated its technology, one of which was the
Galaxy S7
.
Samsung, as we know, has fought battles on many fronts for quite a few years now. The company had huge
legal success at the Supreme Court in December
, when a $399m damages order, payable to Apple, was overturned and reopened by the Court of Appeal. Samsung, however, has still not commented on this Thursday's decision in Huawei's favour, and will do so after reviewing the ruling, reports Reuters.