Could Samsung's Galaxy S5 Prime be called Galaxy Alpha?
35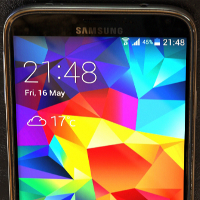 Last month, we
posted several photos
that allegedly presented Samsung's unannounced
Galaxy S5 Prime
, which is supposed to be more advanced than the company's current S5 flagship smartphone. Samsung already released a Galaxy S5 spin-off, namely the
S5 Active
, so an S5 Prime wouldn't come out of the blue. Still, the new handset might not be called Galaxy S5 Prime, and, in fact, it may not use the S5 moniker at all.
Not long after we revealed the photos that supposedly showed (and still show) the unannounced smartphone, the editor-in-chief of SamMobile - a reliable source when it comes to all things Samsung - tweeted that the S5 Prime "might actually be the Galaxy Alpha." Of course, that's just a tweet that wasn't backed by more details, and we shouldn't make assumptions based on it. However, we discovered that Samsung recently filed a trademark application (in the US) for the Galaxy Alpha name - and this certainly gives some credit to the aforementioned tweet. The trademark application relates the Galaxy Alpha name to mobile phones and smartphones, among other things, so it's definitely in the right category. Granted, this doesn't really confirm anything, but at least it tells us that the Galaxy Alpha name is, without a doubt, among Samsung's options for one of its future mobile products.
The Galaxy S5 Prime (or Galaxy Alpha, or whatever its final name is) could be officially announced by Samsung this month, and we're expecting it to be the company's first Quad HD (1,440 x 2,560 pixels) smartphone. Until we hear more on this, you can see the alleged new handset in the slideshow below.
sources:
USPTO
,
Twitter