Could Android 4.2.2 be the last Jelly Bean version before Key Lime Pie?
14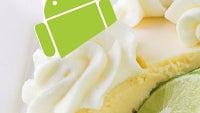 The
Android 4.2.2 Jelly Bean
update has just started rolling out to Nexus devices, and it might be the last Jelly Bean update as Google jumps directly to Android Key Lime Pie after 4.2.2.
Why? Italian HD Blog dug up the official Android source page at source.android.com and noticed Google's interesting wording where the last iteration on each Android version is referred to as 'latest.' So basically could this mean that whenever a version gets 'latest' in its description, that means 'last' in Google's terms? Now, this is an interesting observation that would mean 4.2.2 Jelly Bean will be followed by Key Lime Pie.
We don't know much about Google's wording here and it also seems possible that the company is simply adding latest to whatever version is out there, so that if 4.2.3 ever gets released it will be the one marked with 'Latest' and Google will strip the 'Latest' word from the 4.2.2 description.
So for the time being, this is nothing more than an interesting assumption derived from Google's interesting wording. It does ally well with rumors of
Key Lime Pie getting introduced at Google I/O in May
, though, so why not? What do you think? Right below is the Android version history straight from Google's official source code site for Android.
source:
HD Blog
(translated)
| Build | Tag | Notes |
| --- | --- | --- |
| DRC83 | android-1.6_r1.1 | earliest Donut version, ADP1, ADP2 |
| DRC92 | android-1.6_r1.2 | |
| DRD08 | android-1.6_r1.3 | |
| DRD20 | android-1.6_r1.4 | |
| DMD64 | android-1.6_r1.5 | latest Donut version |
| ESD20 | android-2.0_r1 | earliest Eclair version |
| ESD56 | android-2.0.1_r1 | |
| ERD79 | android-2.1_r1 | Nexus One |
| ERE27 | android-2.1_r2 | Nexus One |
| EPE54B | android-2.1_r2.1p | Nexus One |
| ESE81 | android-2.1_r2.1s | |
| EPF21B | android-2.1_r2.1p2 | latest Eclair version |
| FRF85B | android-2.2_r1 | earliest Froyo version, Nexus One |
| FRF91 | android-2.2_r1.1 | Nexus One |
| FRG01B | android-2.2_r1.2 | |
| FRG22D | android-2.2_r1.3 | |
| FRG83 | android-2.2.1_r1 | Nexus One |
| FRG83D | android-2.2.1_r2 | Nexus One |
| FRG83G | android-2.2.2_r1 | Nexus One |
| FRK76 | android-2.2.3_r1 | |
| FRK76C | android-2.2.3_r2 | latest Froyo version |
| GRH55 | android-2.3_r1 | earliest Gingerbread version, Nexus S |
| GRH78 | android-2.3.1_r1 | Nexus S |
| GRH78C | android-2.3.2_r1 | Nexus S |
| GRI40 | android-2.3.3_r1 | Nexus One, Nexus S |
| GRI54 | android-2.3.3_r1.1 | Nexus S |
| GRJ06D | android-2.3.4_r0.9 | Nexus S 4G |
| GRJ22 | android-2.3.4_r1 | Nexus One, Nexus S, Nexus S 4G |
| GRJ90 | android-2.3.5_r1 | Nexus S 4G |
| GRK39C | android-2.3.6_r0.9 | Nexus S |
| GRK39F | android-2.3.6_r1 | Nexus One, Nexus S |
| GWK74 | android-2.3.7_r1 | latest Gingerbread version, Nexus S 4G |
| ITL41D | android-4.0.1_r1 | earliest Ice Cream Sandwich version, Galaxy Nexus |
| ITL41D | android-4.0.1_r1.1 | Galaxy Nexus |
| ITL41F | android-4.0.1_r1.2 | Galaxy Nexus |
| ICL53F | android-4.0.2_r1 | Galaxy Nexus |
| IML74K | android-4.0.3_r1 | Nexus S |
| IML77 | android-4.0.3_r1.1 | |
| IMM76 | android-4.0.4_r1 | |
| IMM76D | android-4.0.4_r1.1 | Nexus S, Nexus S 4G, Galaxy Nexus |
| IMM76I | android-4.0.4_r1.2 | Galaxy Nexus |
| IMM76K | android-4.0.4_r2 | Galaxy Nexus |
| IMM76L | android-4.0.4_r2.1 | latest Ice Cream Sandwich version |
| JRO03C | android-4.1.1_r1 | earliest Jelly Bean version, Galaxy Nexus |
| JRO03D | android-4.1.1_r1.1 | Nexus 7 |
| JRO03E | android-4.1.1_r2 | Nexus S |
| JRO03H | android-4.1.1_r3 | |
| JRO03L | android-4.1.1_r4 | Nexus S |
| JRO03O | android-4.1.1_r5 | Galaxy Nexus |
| JRO03R | android-4.1.1_r6 | Nexus S 4G |
| JRO03S | android-4.1.1_r6.1 | Nexus 7 |
| JZO54K | android-4.1.2_r1 | Nexus S, Galaxy Nexus, Nexus 7 |
| JOP40C | android-4.2_r1 | Galaxy Nexus, Nexus 7, Nexus 4, Nexus 10 |
| JOP40D | android-4.2.1_r1 | Galaxy Nexus, Nexus 7, Nexus 4, Nexus 10 |
| JOP40F | android-4.2.1_r1.1 | Nexus 10 |
| JOP40G | android-4.2.1_r1.2 | Nexus 4 |
| JDP39 | android-4.2.2_r1 | latest Jelly Bean version, Galaxy Nexus, Nexus 7, Nexus 4, Nexus 10 |
Recommended Stories