Costco to offer G2 one at a time, not in cases of 144
5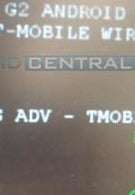 Costco has made its name as a place to go when you need to buy a product in bulk. Items that are quickly disposable like diapers, paper plates, garbage bags and plastic utensils can be bought in large quantities with sufficient price savings. You can add to the list of items being offered, the G2 HSPA+ enabled Android phone. While Costco won't be offering the handsets in cases with a gross of phones, the retailer does have something special to sweeten the offer.
According to someone close to the situation, Costco plans on selling the G2 in a price range of $150-$200 with a signed two-year contract (most top of the line Android phones have been going for $199.99 after rebate and contract). Off contract, the price will be $449.99.
Costco's gimmick of big price savings for large quantities will not work with a cell phone, so what does the retailer have up its sleeve? How about free accessories. It is not known if Costco's deal will include a free case, car charger or a Shamwow to keep the phone nice and dry. But whatever accessory will be handed out at no cost, it could be something that gives G2 buyers the incentive to pick up their next handset at the same time they replenish their toilet paper supply.
T-Mobile G2 Specifications
source:
AndroidCentral