Cortana-powered, smartphone-controlled toy robots might be the ultimate in geeky fun
3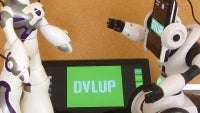 For all its sharps and wits, Windows Phone's voice assistant,
Cortana
, isn't much more than a talking circle with a hundred animations. Nanabot, an Indiegogo project, wants to change that. By marrying the awesomeness of WowWee's toy robots with the computing capabilities of a Nokia Lumia phone, developer Robert Oschler is able to give these robots the personality of Cortana. Clever, isn't it - Cortana lacks a body, while the robot lacks a soul, so let's make a Nanabot. This is the name of the project, and it sure sounds like a good idea, but how does it work?
Oschler devised a Windows Phone app and codebase based on Cortana's speech recognition engine and the RoboMe smartphone-controlled robot platform. The app part runs on a Lumia, which connects to the WowWee robot and opens a whole new bag of tricks for it. Nanabot will be able to play special mobile games with you, guard your room by asking visitors who they are when they enter, recognize books and DVDs you show to her, and even recognize your cat's face.
If Oschler meets his funding goal, he plans to release an open-source toolkit that will make it possible for developers to create RoboMe apps. Speaking of RoboMe, you will obviously how to buy a RoboMe robot and a Windows Phone to toy around with. If you are a developer, Oschler's toolkit will give you full control over the RoboMe's movements, infrared obstacle sensors, main LED, and audio input. It will be interesting to see where Nanabot goes, even if the days of sentient androids roaming among us are pretty far into the future.
source:
Indiegogo