Cooking spoon meets stylus, keeps touchscreens nice and clean
4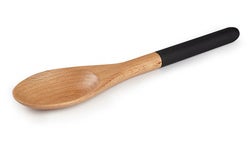 Love cooking? Then here's an accessory you'll be wishing you had during your last bake-off. It's called the ispoon and it's pretty much what it looks like – a large wooden mixing spoon with a handle that can be used as a stylus. Brilliant, isn't it?
As you can already tell, the purpose of this modern spoon is to let one use a tablet or smartphone even when their hands are dirty. That's perfect for those times when you're cooking something new and you're reading the recipe from your mobile device. The stylus embedded in the handle should get along well with your tablet, regardless of its make, model, or type of display it comes with.
Sadly, the ispoon isn't in stock right now, but you can keep an eye on the Umbra store where it should be available once again in the near future. The accessory is priced at $7.