Cook: Our products are not only for the rich; analyst sees big drop in Apple's stock after tomorrow
48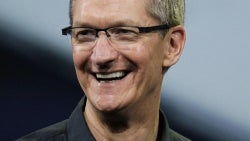 Some people complain that Apple manufacturers devices for the rich and wealthy, and that as a result, they are priced out of purchasing Apple products. But if you ask Apple CEO Tim Cook, he will disagree. Speaking to
Fortune
, Cook points out that an Apple iPad and an Apple iPhone can be purchased for less than $300 each. "And so these are not for the rich," said the executive. The Chief Executive also pointed out that with an active installed base of over 1 billion products, Apple couldn't be manufacturing just for the rich since there aren't that many rich people in the world. Cook also said that Apple has changed the world by producing tools that allow people to do things that they couldn't do otherwise.
Speaking about Apple and its products, tomorrow we will see the company unveil the tenth anniversary iPhone, which will include many features never seen before on the device including an OLED panel with an edge-to-edge screen, face recognition, wireless charging, and an "L" shaped battery that is expected to provide long battery life. With investors looking ahead to tomorrow, Apple's shares rose 1.81% today (or $2.87) to $161.50. But one analyst says that tomorrow's unveiling of the iPhone X will lead to a sharp drop in the price of the stock.
Loup Ventures analyst Gene Munster said last week that the introduction of the iPhone X will kick off an 8% to 10% decline in Apple shares over the next one to three months. Munster says that Apple investors will start "wringing their hands" when they look ahead at the next two quarters. The former Piper Jaffray analyst did add that the iPhone X will lead to a higher growth rate for the product, although the analyst apparently doesn't see investors terribly excited by this.
"I think the No. 1 way Apple changes the world is through our products. We make products for people that are tools to enable them to do things that they couldn't otherwise do—to enable them to create or learn or teach or play. Or do something really wonderful...So that's the primary way we change the world. We also try to change the world by the way we run the company. And whether that's being very focused on the environment and making sure that we have a no-carbon footprint, essentially, or running our company on 100% renewable energy."-Tim Cook, CEO, Apple
The analyst also expects the Apple Watch, which currently makes up 3% of Apple's business, doubling its contribution to the company once it no longer needs to be paired to an iPhone to connect to the internet. The Apple Watch Series 3 will be introduced tomorrow, and it should come with an LTE radio and an embedded eSIM card.
Will tomorrow's eagerly awaited announcements mark a short term top in Apple's stock? Will the Apple iPhone X pricing exclude everyone but the wealthiest people in the world? By this time tomorrow, we will know the answers to these questions and many, many more.
source:
Fortune
,
CNBC