Consumer Reports gives the iPad 2 top honors in its tablet rankings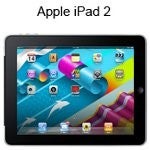 Granted that Consumer Reports has yet to fully commit in recommending consumers to buy an Apple iPhone 4, mainly because of the so-called Death Grip issues reported by some people, they actually recently gave props to Apple's other pride and joy.
Taking up the top honors in their most recent tablet rankings, Consumer Reports placed the venerable
Apple iPad 2 with Wi-Fi & 3G
on the top of its ratings. Of course, there are no reports of any antenna issues with the iPad 2, but more interesting is the reasoning why it's able to beat out the competition.
From the sound of it all, it appears to be the iPad 2's
impressive combination of build quality and pricing
that's catapulting it straight to the top of its rankings. In fact, its competitive pricing is something that you don't necessarily associate with a company that's known to offer premium priced products. And with that in mind, it's utterly changing the mentality for most other manufacturers when it comes down to pricing.
As for the competition, the only one that stands close to rival it is none other than the
Motorola XOOM
– which is regarded by them as offering additional conveniences that's missing with the iPad; such as Flash support and expandable memory capacity.
via
BGR