Confirmed by Microsoft - here are the first 10 Lumias to get Windows 10 Mobile
31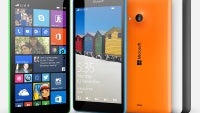 Although Microsoft seems to be busy working on Android apps these days, rather than doing seemingly more relevant things, such as hyping up Windows 10 Mobile, this doesn't change the fact that a successor to Windows Phone is in the making, and the concept of Windows living on phones is not dead yet. Although Microsoft isn't keen on announcing a timeframe of availability, the company was adamant that all Lumia devices running Windows Phone 8 will eventually get upgraded to Windows 10.
But, following this announcement, Microsoft published a list of to-be-upgraded Windows smartphones that was limited to devices running the Lumia Denim software, which coincides with the Windows Phone 8.1 Update 1 release. But the laconically worded statement didn't make it very clear whether Windows 10 will be exclusive to these devices, or whether they will simply be the first to be updated.
Thus, website Neowin reached out to Microsoft in an attempt to clarify the situation. And, what do you know — it turns out that the following 10 smartphones will be the first to get Windows 10 Mobile, while the rest of the Windows pack will eventually get updated later. A notable omission is the Lumia 1520, which is a hi-end model that was expected to be among the first representatives of the new mobile Windows.
Also missing from the list are phones with less than 1GB of RAM, such as the good old Lumia 520 and the newer Lumia 630/635. However, if Microsoft says that it will update all Windows Phone 8 handsets eventually, it will have to do so for 512MB RAM devices too, as well as carrier exclusives such as the Lumia Icon on Verizon.
While Microsoft gradually reveals the rest of its cards, here are the first 10 smartphones that will get updated to Windows 10 Mobile.