Confirmed: LG G3's back cover contains actual metal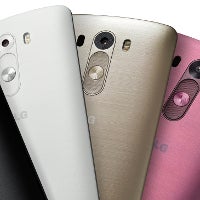 This has been a back-and-forth issue even before the introduction of the LG G3 itself, with some sources claiming the phone will sport a back cover made of metal, and others believing that LG will stick with plastic. Once the phone was launched, LG didn't do much to make things crystal clear for us. Instead, it said the body features a matte finish that will keep fingerprints away from the G3's exterior.
So, while most of the press centered around the assumption that the LG G3 is all-polycarbonate (plastic), there were still some who held it that the back is covered with a layer of metal for an extra touch of class. Well, it actually turns out that we've all been correct, or probably more accurately - we've all been wrong, as the truth is somewhere in the middle.
LG has confirmed for us that there's more to the back panel of the LG G3 than a single material... get it? While most of the back cover is made of polycarbonate, it does feature a very, very thin film of real metal somewhere in there. It's not on the surface, so you won't be really touching metal, we've been assured that it's in there, somewhere inside the polycarbonate, in the form of a very thin film.
What's the use in it if it's not adding to the premium exterior of the phone? Well, who knows, the metal film may have a hand in the specific look of the panel, or it may be making it a bit sturdier... who knows. Point it, there's metal in the G3's body and that makes LG's upcoming banger even cooler.