Computer Engineering student working on wireless video transmitter for smartphones
11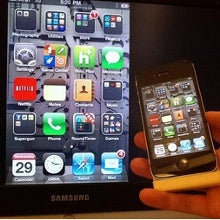 HDMI has been gaining popularity, ending up on the majority of high-end smartphones, and iOS devices like the iPad 2 also support the standard via a separate dongle, but while it makes mirroring your content to an HD TV easy, you still have to deal with cables. There should be a way to
wirelessly transfer all that content
, a computer engineering student thought and the idea for
iCast
, a wireless transmitter for smartphones, tablets and camcorders, was born.
iCast looks much like an external battery pack or a phone dock – you just insert your device in iCast and you can enjoy
1080p full HD mirroring
, but the functionality is not limited to videos only – it just mirrors everything on your cell phone so you can use it as a game controller, watch pictures or browse the web. The gadget supports the iPhone and the iPad, but also a number of Android devices like the HTC EVO 4G, DROID X, Galaxy Tab slates, and even camcorders. iCast requires no Internet connection and your phone can be charged while content is being mirrored. Excited? The tool is coming just before the Holiday season, on December 5th for $149.99 and you can
pre-order
yours at the source link below.
Thanks, jorge colman!