Comedian proves that getting kicked out of an Apple Store is not an easy task
16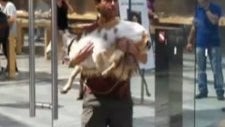 Oh, sure you've seen people
dance, write a whole book or even marry at Apple Stores
. It seems those super tolerant blue-shirt geniuses walking around won't kick you out of Cupertino premises even if you brought a goat inside. But why not try? Comedian Mark Malkoff pushed the limits of lenience of Apple employees not once but four times.
First, he ordered
pizza delivery
in the store, offered a slice to an Apple employee and then bolted it down himself. Secondly, he had a
romantic date
accompanied with a live trumpet solo. That didn't work so he took it to the next level – got
dressed as Darth Vader to get his iPhone fixed
. Finally, he did
bring a goat inside
. Did any of those work? We bet you've already guessed the answer, but feel free to see if you were right by playing the video below.