Come join us at 12PM EST for a Hangout in the PhoneArena Google+ Community!
7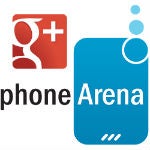 A couple weeks ago, Google+ launched the Communities feature, and we quickly jumped on the opportunity to create a PhoneArena community as a way to give our readers a way to connect with us more directly. We've gotten some great feedback, and now we'd like to try out a first for us: a Google+ Hangout starting at 12PM EST.
This is a first not just in getting some face-to-face time with our readers, but also in that some of us have never done a Hangout before, so it's expected to be pretty informal. As of now, we're expecting Michael H., John V., Alan F., and Scott H. to join the fun from the PhoneArena team, so all we really need are readers to come join us.
Given that this is the first Hangout that we're doing, we won't be broadcasting it live on YouTube, but that may be an option for future Hangouts.
So, if you're interested, come join our
PhoneArena Google+ Community
, introduce yourself, and we'll see you there at 12PM EST!