Combined Apple device sales have come closer than ever to Windows, might outsell it soon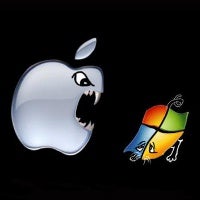 You already know what happened after Apple launched the iPhone in 2007 - the phone industry started changing from the ground up, and we usually take the year 2007 as the very milestone moment for this transformation. An interesting statistical study by Horace Dediu of Asymco makes the case that the Windows traditional PC platform started erupting even earleir, though, and finds some form of correlation between the growth of Apple and the dismantling of the Windows Hegemony in the middle of the first decade of the new millenium.
Dediu notes that the peak for Windows comes for 2004, and after that the company goes on a downward spiral and to make this comparison clear he contrasts it with sales of Macs. What's even more striking though is that right now Apple sells a combined number of Macs, iPhones and iPad much closer to the number of PCs with Windows on them.
From a mind-boggling market domination with over 54 times more Windows PCs sold than Mac machines, Windows is now selling less than two times more machines than Apple, and if the trend continues in the next year or so, we could see Apple for the first time ever outsell Windows with its Macs, iPads and iPhones combined.
Hit the source below for all the details, and check out the graphs that are really, self-explanatory.
source:
Asymco