ComScore's Q3 numbers out: Android and Apple still big winners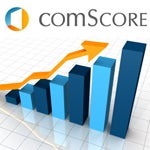 Not one to let
Nielsen
get all the lime light, comScore has now released its Q3 smartphone numbers, and not surprisingly they are similar. Android and iOS saw gains, with Android handsets now accounting for 46.3% of all U.S. smartphones, and iPhones accounting for 28.1%. The 4.4% gain by Android mostly came at RIM's expense, as their market share dropped 4.5 points to 17.2% despite the launch of their
BlackBerry 7
phones.
Looking at hardware OEMs, Samsung maintained its lead with 25.5 of all mobile phones (smartphones and feature phones combined), while LG came in second with just over 20% market share. Apple now accounts for almost 11% of all mobile phones sold, which is particularly impressive since they only make and sell three models of iPhone. Research in
Motion
, who also only makes smartphones, now makes 6.6% of mobile phones.
ComScore also tracks the types of activities users engage in on their mobile devices, and it appears that consumers are getting more and more use out of their phones, as all categories saw growth, including texting, email, web-surfing, and mobile gaming. The largest increase in usage came from downloading apps, which was up
3.2
% to 43.8% of all phones. Since smartphones account for around 48% of all phones owned in the U.S., it seems that almost everyone who owns a smartphone is making use of their respective app stores.
FEATURED VIDEO
Want to dig into the numbers a bit more? Feel free to peruse the graphs below: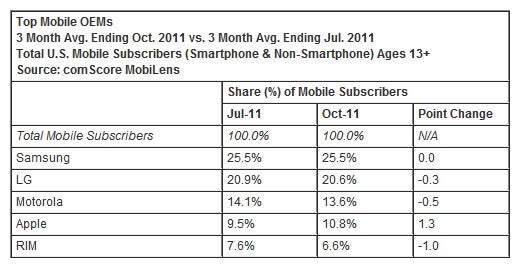 source:
comScore
via
Tech Crunch