Blackberry 7 device sales slowing after promising start
17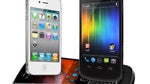 Research in Motion has had a tough year. Playbook sales are well below expectations and are now heavily discounted. BlackBerry phones have been hemorrhaging market share to Android and iOS quarter after quarter. So it was with great fanfare this summer that RIM was able to trumpet one of their best product launches ever – they introduced several phones in their new BlackBerry 7 series with a global roll out that saw strong early demand.
Fast forward a couple months: with the holiday shopping season fast approaching, the tide is beginning to head back out. Sales of the new phones may be slowing across the board, according to Canaccord Genuity analyst T. Michael Walkley, whose inventory checks included Verizon, T-mobile, and Sprint.
Walkley blames the introduction of the
iPhone 4S,
and the concurrent price reduction of older iPhone models for stealing some market share. He also thinks the excitement generated around Ice Cream Sandwich and new high-end Android handsets are further eroding RIM's market standing.
Walkley foresees even greater competition for RIM in 2012, as sub $200 Android and Nokia handsets should begin to eat further into the lower-margin developing markets where BlackBerrys have remained popular. Competition from the recently introduced Kindle Fire and Nook Tablet will also create continued pressure on the
PlayBook
and its successors.
What does this all mean for RIM? Probably shringing market share and even smaller margins as they try to position themselves against the onslaught of iOS, Android, Symbian, and even WP7 phones. With expectations that we won't see RIM's next-gen BBX handsets until sometime in Q3 of 2012, next summer can't get here soon enough for Research in Motion.
source:
CNET