Class action lawsuits aimed at Carrier IQ, HTC, Samsung
19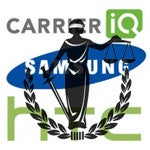 Well that didn't take long.
Scandal-ridden
software company Carrier IQ continues to have a really bad week, with two class action lawsuits filed against them over presumed violations of the Federal Wiretap Act with their analytics software.
The lawsuits were filed in Missouri and Illinois, and name Samsung and HTC as defendants in addition to Carrier IQ. None of the carriers are named in the lawsuits, although the shifting of the burden to the carriers has really happened
in the last 48 hours
, so it's possible that additional defendants could be added in coming weeks.
The lawsuits allege that the defendants "intercepted, recorded and collected information"
from your phone and transmitted that data to a third party (the carriers) without the authorization of the parties being monitored. The lawsuits seek statutory and punitive damages that could easily translate into tens of millions of dollars, to be divided among the owners of the handsets that are impacted by Carrier IQ's software. Since 141 million phones have the software installed on them, we probably aren't looking much money per person.
C
arrier IQ has vigorously denied that their software breaks any wiretap laws
, claiming that they don't record, store, or transmit the contents of text messages, phone calls, email, or videos. Carrier IQ further states that it simply supplies the software; it is up to the individual wireless providers to decide what information is to be tracked and stored, and for how long.
Obviously there is a lot of information that's not yet public, but these lawsuits shed an interesting light on past events in the scandal. It originally seemed like Carrier IQ dramatically over-reacted when it
sent a cease and desist letter
to the researcher that discovered their software, but perhaps that was an attempt to put the genie back in the bottle before the whole thing blew up. If that's the case, it suggests that Carrier IQ may have suspected what they were doing was at the least a PR nightmare, and at worst legally suspect.
Further supporting this inference is the "rats leaving a sinking ship" routine of the last few days, as handset manufacturers, software companies, and even several networks released public statements disavowing their responsibility in the scandal and/or any association with Carrier IQ.
It's possible this is just the tip of the iceberg. What do you guys think?
source:
paidcontent.org
via
Tech Crunch