Carrier IQ withdraws cease-and-desist, issues an apology
2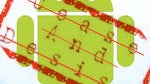 Recently, we told you about a
cease-and-desist order a security researcher received from Carrier IQ
after he exposed some tracking software in several Android devices. After receiving the order, which seemed a bit over the top, the security researcher, Trevor Eckhart, and the Electronic Frontier Foundation, or EFF, said that Eckhart's posts were protected by the First Amendment right to free expression and refused to submit to Carrier IQ's demands.
Well, it looks as though Carrier IQ is singing a different tune now. Carrier IQ has sent a letter to the EFF saying it is withdrawing its legal request to cease and desist Eckhart. The letter says, "
We are deeply sorry for any concern or trouble that our letter may have caused Mr. Eckhart, and in retrospect we realize that we would have been better served by reaching out to Mr. Eckhart to establish a dialogue in the first instance.
" It goes on to say, "
We sincerely appreciate your work on Mr. Eckhart's behalf and respect and share your commitment to protecting free speech in a rapidly changing technological word.
"
source:
EFF