Civilization Revolution 2 hits iOS, expected to land on Android in the foreseeable future
5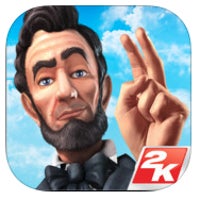 The latest addition to one of the most favored and critically-acclaimed strategy turn-based game series of all time – the classic Civilization - has just maneuvered to Apple's App Store. We are talking about Civilization Revolution 2 here, gamers, the sequel to Civilization Revolution, which cleared iTunes back in 2009.
Civilization Revolution 2 doesn't diverge from the good ol' concept of the game series even a bit – it's a turn-based strategy, which requires you to undertake the tough job of leading a nation from the Neolithic Era through the Space Age. In the mean time, you'll interact with a wide array of rivaling nations. Either befriend them or conquer them, it's all up to you! You'll play as a renowned country leader and some of the more notable you can choose from are the likes of Sir Winston Churchill, John F. Kennedy, Napoleon, Gandhi, et al. So, you'll definitely have to put your thinking caps on, gamers!
It is important to say that the game has been developed with mobile devices in mind, as it comes with pretty intuitive and simplified interface, which puts emphasis on the gameplay itself and makes it easier for players to navigate through the menus. Unfortunately, Civilization Revolution 2 doesn't sport any multiplayer features. Albeit this might be a deal-breaker for some, we are pretty sure that most of the hardcore fans of Civilization will overlook this dearth.
"The success of Civilization Revolution on iOS was undeniable, and we wanted to cater to that audience by providing them with an updated experience that truly takes advantage of the mobile platform's capabilities,"
stated Adam Plotkin, the associate producer of the game.
"Right now, we are only focused on making Civilization Revolution 2 a successful mobile game."
Civilization Revolution 2 is priced at $14.99 and it comes with but a few in-app purchases, which allows you to buy new leaders and maps. All in all, these IAPs are inessential ones, so the freemium model doesn't break the gameplay. The turn-based strategy is iOS-exclusive at the moment, but it should hit Google Play sometime this year.
Download: Civilization Revolution 2 (
iOS
)
via:
Gamespot
,
Polygon