Chrome browser's hidden dinosaur game is now available on the Play Store
6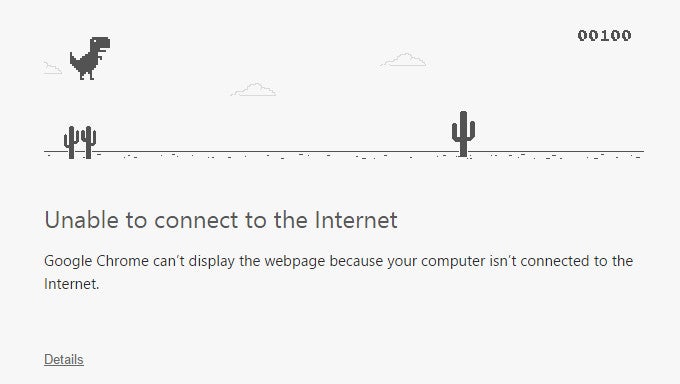 The T-Rex game as seen on Chrome browser
Did you know that Google's Chrome browser has a tiny game hidden in its code? That's right, and you can access it right now. All you have to do is go offline, try to load a page that will inevitably return a "no connection"-type error (with a black-and-white T-Rex visualized), and hit the space bar on your keyboard. As soon as you do that, the dinosaur will jump into life and start an endless runner-type game in which you have to jump over a plethora of cacti, as those are obviously T-Rex's kryptonite.
It's a fun bit of trivia – one that has become typical of Google – but what if you actually dig the darn game? Until now, the best you could do is unplug your Ethernet cable or turn off your LAN card manually, but now you no longer need to do that, for that same game has been just posted on the Play Store. The title of the game is Dino Run - Dinosty, and believe you us – it's much harder than it looks!
Anyways, if you wish to grab the free (ad-supported) game and have some fun on your Android device, then
go with this link
. Let us know how far you get.