Chinese manufacturer reveals adapters that turn the iPhone 7 Lightning port into a 3.5mm jack
24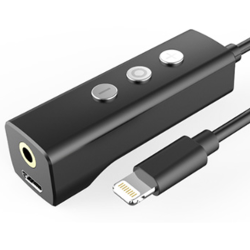 Hmm.
Maybe there is something to that rumor
about the
Apple iPhone 7
and
Apple iPhone 7 Plus
both launching without an earphone jack. China's Tama Electric showed off today three adapters that plug into the iPhone 7's Lightning port on one end of the cable, with a 3.5mm earphone jack on the other end. This is exactly what was envisioned when the rumors first hit that the next iPhone would be missing the jack.
One of the three designs showed off by Tama included a model with a USB port, allowing power to be routed through the Lightning connector even with an earphone plugged into the 3.5mm opening on the adapter. Rumors have Apple eliminating the 3.5mm jack on the iPhone 7 so that the phone could be made thinner. Or, it could leave room for a higher capacity battery. In addition, removing the 3.5mm jack could make it easier to produce a water resistant iPhone since that would be one less opening that the liquid could enter through.
The three models displayed by Tama include the TSH03JM (this is the model with the USB port), the TSH02JC and the TSH01JC. So far, there has been no information released about pricing and availability. The company also revealed an earphone that connects straight to the Lightning port.
Now, the question seems to be what Apple will do with the real estate they have to play with the iPhone 7. Will it be used just to make the next version of the iPhone thinner, or will we see a longer lasting battery shoe horned inside the device?
source:
MacOtakara
(
translated
)