China's achievement: best Huawei phones (2015 edition)
17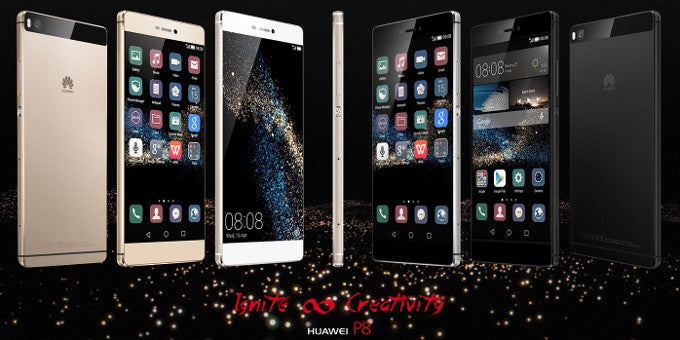 Huawei (pronounced "wah-way") is taking over the world: the Chinese company still hasn't established much of a presence in the United States, but that hasn't stopped it from growing tremendously, and it's now gunning for the spot of the world's third-largest phone maker after Samsung and Apple. While we're still waiting for the official sales of its biggest competitor, Chinese Lenovo (now including Motorola), we decided to give you a quick look at the most notable Huawei phones out there: these are Huawei's best phones so far in 2015.
The Huawei name literally translates as 'China's Achievement'
The one thing that you notice right away is that - unlike many of its rivals (especially Samsung in the near past) - Huawei is focused on a relatively low number of devices that are very well crafted. And while we still wish for some more clarity with the naming scheme, it does seem to have the flagship P series, the slightly more affordable Honor phones, and the Mate phablets.
Interestingly, the name Huawei translates something along the lines of 'China's achievement' (from the Mandarin 华为). What is this achievement all about? Let's look at the best Huawei Android phones that you can get right now in 2015 and what they offer.
Huawei P8
Considered the flagship in the Huawei lineup, the Huawei P8 comes with an excellent build quality and a level of craftsmanship that impresses: the phone has a sturdy yet thin metal body with a camera completely flush with the rest of the body. It comes with a 5.2-inch 1080 x 1920-pixel IPS LCD display (thanks for no Quad HD silliness, Huawei!).
Huawei uses its own HiSilicon Kirin custom chips, and in the P8 it has the Kirin 930 - an octa-core chip with eight Cortex A53 cores running at up to 2GHz (there are four low-power Cortex A53 cores that take up on daily tasks and four high-performance Cortex A53e cores). The nice thing about the Huawei P8 is the plentiful 64GB of internal storage it comes with (plus, you can expand on that storage via microSD cards). Also, the phone has got a reliable 13-megapixel camera that captures consistently great images in good light and does above average in low light.
We also come away impressed with the smooth performance of the EMUI 3.1 custom skin that runs on top of Android 5.0 Lollipop, and the extremely useful Spotlight-like quick search functionality.
Huawei Honor 7
The Huawei Honor 7 has just started shipping (wider availability comes at the beginning of August), and it's the more affordable sibling to the flagship Huawei P8. The Honor 7 is also an aluminum phone with a 5.2-inch device with a 1080 x 1920-pixel IPS LCD display and the fairly powerful HiSilicon Kirin 935 system chip with eight Cortex A53 cores running at up to 2.2GHz and 3GB of RAM. It also has a fingerprint scanner on its back, right below the main camera (the Huawei P8 lacks a fingerprint scanner).
The Honor 7 features a 20-megapixel main camera and 16GB of internal storage that you can expand on via microSD cards.
Huawei P8 Lite
The Huawei P8 Lite is one of the first Android phones of the Chinese company to be available in the United States, where it is competing against other affordable devices. With a full retail price of just $250, this phone offers a lot of value: it's an unlocked 4G LTE phone with the 64-bit octa-core Snapdragon 615 system chip (and one of the most affordable phones with this chip in the United States), and it features a decent 2GB of RAM.
The EMUI custom skin on top of Android works very smoothly on this phone as well, and it's got a decent camera. Make sure to read our full-on Huawei P8 Lite review to get in-depth impressions of this phone.
Huawei Honor 6 Plus
The Huawei Honor 6 Plus is a device that shows that Huawei is not afraid to experiment: the Honor 6 Plus comes with two 8-megapixel cameras on its back that use some software tricks to achieve a photo allegedly as detailed as 13-megapixel one and manage to squeeze out more light out in the scarce-light conditions. Huawei also does some clever software tricks to achieve software variability of aperture, giving you the option of a neat bokeh effect to images.
Otherwise, the Honor 6 Plus is a 5.5-inch 1080p phone with an octa-core HiSilicon Kirin 925 system chip running at up to 1.8GHz, with 3GB of RAM and 32GB of internal storage.
Huawei Honor 4X
Price: $205
This dual-SIM 4G phone comes at an affordable price of just around $205. For that cost, you get a phone with a 5.5-inch 720 x 1280-pixel and a sizable 3,100mAh battery. Not unlike Xiaomi and some other Chinese manufacturers, this phone can only be purchased online (and not in physical stores), but it's a great value for the money with its smooth daily performance, excellent battery life and fairly capable, 13-megapixel camera.
Huawei Ascend Mate 7
While it is due for a refresh in the very near future, prices have already fallen significantly on Huawei's Ascend Mate 7, a gigantic 6-inch 1080p phone with the HiSilicon Kirin 925 system chip (an 8-core solution with Cortex-A15 and Cortex-A7 chips running at up to 1.8GHz) and a large battery.
Yet the Mate7 is a really compact device
relative to its screen size
, and, design-wise, leaves very little to desire. It's a well-built, sturdy metal phone that leaves no room for doubt concerning its high-end, premium status. It's also got a fast and nimble fingerprint scanner and a good overall performance.
Huawei Honor 4C
Price: $140 - $200 (depending on market)
The Huawei Honor 4C is designed to compete in the extremely difficult affordable phone segment, but it's well equipped with one of the smoothest running custom skins that you'd find (the EMUI custom interface). The Honor 4C features a 5" 720p display, a HiSilicon Kirin 620 system chip with eight Cortex A53 cores running at up to 1.2GHz and 2GB of RAM.
Unfortunately, it comes with Android 4.4 rather than Android 5.0 Lollipop, but that's a shortcoming that Huawei will likely soon fix with the forthcoming Honor 4A. It also has a limited 8GB of storage, but those are some compromises you have to make for an A-brand phone this cheap.