Chevy MyLink smartphone-based infotainment system hands-on
1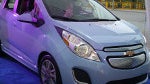 Smartphones have seemingly penetrated every single facet of our lives, but if there's one area that's still regarded as uncharted territory, some would argue for
car technology
. Rightfully so, it's been mainly reserved for premium vehicles thus far, and to tell you the truth, the tech behind it wasn't so high-tech per se. Well, the folks over at
General Motors
have been developing a smartphone-based system for some time that would be incorporated into vehicles – so we managed to get a quick look at it running very recently in a
Chevy Spark
.
Dubbed as the
Chevy MyLink smartphone-based infotainment system
, we saw it running in full form with a Chevy Spark, which relied on an iPhone 4S to maintain some of its connection and functionality. Essentially, the MyLink system allows us to harness the power of the iPhone's abilities – such as being entertained by a variety of services. Now, the beauty in it all is that the driver doesn't need to interact with the smartphone at all, seeing that everything is done via voice control or through the car's in-dash stereo system.
Needless to say, it's fine and dandy being given access to certain audio-centric apps, but when it comes to
turn-by-turn navigation
, we managed to see the
BringGo
app in action, which allows for some additional interaction between the handset and in-dash system. For example, if we're at work and want to find directions ahead of time to a restaurant, we can actually push then from our handset directly to the car's in-dash infotainment system – saving you time in the process, seeing that you'll be presented with the directions upon getting into the car. On top of being given access to a few other notable apps, we were given a quick demo on how it Chevy's MyLink system is able to incorporate Siri.
We won't go through all the details, but it seems as though GM has done an extensive job fine tuning the MyLink infotainment system, so it'll be interesting to see its progress with future updates and roll outs to different vehicles. Check out the video below to see the entire thing in action!