Check out a transcript of Tuesday's Samsung v. Apple Supreme Court hearing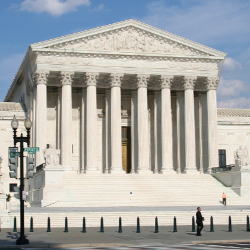 The smartphone industry was represented at the Supreme Court yesterday as lawyers for Apple and Samsung got to speak in front of the 9 justices of the highest court in the land. If you ever wondered what goes on during a Supreme Court hearing, you can find out right now; a full transcript of yesterday's oral hearings has been released by the Court. The issue here is the method used to determine damages in a design patent infringement case, and a final ruling is expected by June 2017.
Samsung's position is that damages should be based on only the part of a device that was infringed on (as determined by a trial court) and not based on the total profits generated by the device. For example, if a trial court determines that a company infringed on a design patent for the home button of a phone, Samsung says that damages should be based on the home button only. Naturally, Apple has a conflicting point of view.
Apple says that the design of a product such as the iPhone, is important in determining how the product functions. The issue is confusing to jurors and Samsung says that allowing awards to be based on total sales of a product will invite more patent trolls to gum up the patent litigation system.
The goal of the Supreme Court in this case is to develop a set of rules that can be applied in future patent litigation involving design. It will not rule specifically on Apple v. Samsung. Check out the transcript of yesterday's arguments which can be found directly below.
source:
Scribd
via
AppleInsider