Charge an iPhone completely in minutes using this pricey portable gadget
33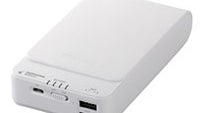 Portable battery packs for smartphones and tablets
come in many shapes and sizes. Some of them are small and light, yet unable to hold much charge, while others are humongous, but can recharge a typical smartphone tens of times in a row. The Voltissimo is somewhere in the middle, but it isn't the charge capacity nor its size that make it stand out. Instead, the accessory is special for having rapid charge abilities.
What does that really mean? Well, as its maker puts it, Voltissimo can fully recharge an iPhone's dead battery in about 15 minutes. But since the accessory outputs voltage through a standard USB port, one can use it to bring back to life any other smartphone, or even a tablet. Actually there are two, 3-amp USB outputs available, meaning that you can charge two gadgets at the same time.
That's perfect for those occasions when you're about to leave home and there's just no time to let your smartphone charge the normal way. Or you can just throw Voltissimo in your backpack and use it in case of emergency.
As for its capacity, Voltissimo comes in 4000mAh and 8000mAh variants. The former can fully charge an iPhone twice, while the latter can do that four times. It won't come cheap, however, so don't take out that credit card yet. Bound to hit the Japanese market in April, the accessory will cost $190, while the 8,000mAh version will retail for $235.