Certain exercises produce inaccurate heart rate readings on the Apple Watch
24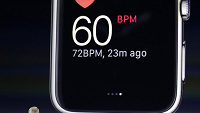 Some Apple Watch users are complaining that their timepiece is not providing them with correct heart rate readings during certain exercises. Some in the middle of a heavy-duty P90X workout, are seeing heart rate readings that are too low. One Apple Watch user says that his timepiece constantly shows him with a heart rate of 60-80 beats per minute (bpm) during exercises that should have his ticker pumping away at a rate of 140bpm or higher.
One P90X user had a Polar heart rate strap on, with the Polar watch on one wrist, and the Apple Watch on the other. The Polar device showed a heart rate above 160 during the exercise, while the Apple Watch showed a rate of 70-80bpm. Apple has sent replacement watches to users with this issue, but that has not cleared up the heart rate inaccuracies.
The Apple Watch uses a method called photoplethysmography that measures blood flow in the wrist, to determine a user's heart rate. Apple's own website lists certain activities that could produce inconsistent results with this process. Activities like tennis and boxing will produce inconsistent and inaccurate heart rate readings on the Apple Watch, because those feature movements that are "irregular." Not surprisingly, exercises that have a certain rhythm, like cycling, or running, will work better with the watch. Still, some users who are doing exercises like running and walking outdoors, both of which are recommended by Apple's workout app, are having the same issues with their Apple Watch.
"I have been using my Apple Watch to track my workout sessions and for past few days I have noted that when ever I am doing intense workouts where there is lot of hand movements like P90x3 or Insanity the Apple watch heart rate sensors gives wrong readings. For example, at the peak of P90x3 workout when I am totally out of breath, the Apple watch heart rate sensor will show heart rate as 62 or 70, but the heart should be in excess of 150+. Today, I tried using a Polar heart rate strap and Polar watch on one wrist and Apple watch on other wrist while doing P90x3 Accelerator workout. Many times it happened that Apple Watch was showing heart rate at around 70-80 while the polar was showing heart rate at 160+...I wear the Apple watch snugly, so I don't thing it is happening because it's loose. However, the watch does move a little on hand while exercising."-Lalit Sharma
No word yet from Apple about this. Since they have supposedly sent out replacement watches to some, they are obviously aware of the problem. In addition, you might recall that earlier this year, it was discovered that
Apple Watch users with a tattoo on their wrist could not get a heart rate reading
from the watch since the ink blocks the sensors on the device. Some claim that moving the watch up toward the elbow will produce a more accurate reading, but Apple does not recommend doing this since it built the watch specifically to be used on the wrist.
source:
Apple
,
Reddit
via
AppleInsider