Cellphones to blame in 28% of auto crashes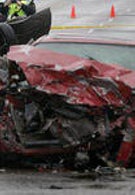 According to the U.S. National Safety Council, 28% of traffic accidents are caused by cellphones. In 1.4 million accidents, the driver was chatting away on his/her handheld device which led to the crack-up, while sending/receiving a text was to blame in 200,000 accidents. Yesterday, U.S. officials started a new organization patterned after MADD (Mothers Against Drunk Driving) called FocusDriven. Would hands free equipment reduce the frequency of these accidents? Not according to over 120 studies of the problem which concludes that the distraction of using a cellphone while driving has nothing to do with the physical aspect of holding the device.
Chuck Hurley, the executive director of MADD, says that enforcing a cellphone ban is not easy, but is not impossible either. He says that people drive and talk on their handsets because they can and says that blocking cellphone signals would be effective. 19 states and the District of Columbia have banned texting while driving, although in four of those states-New York, Virginia, Louisiana and Washington-the police have to stop you for another reason first.
source:
thestar