Cell phones will dominate global web surfing in 2013?
1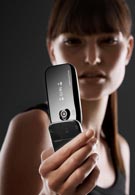 With the official introduction of the
Nexus One
and quite a few
really fascinating handsets at CES
, we can say the new year began on a truly promising note. Now, a forecast relating to what we might expect to see in 2013 has appeared. According to Gartner, cell phones will soon take over computers as the most popular devices to surf the Internet and this will happen on a global scale in just three years. The calculations of the company indicate that the total number of PCs used for web browsing at that time will be about 1.78bln., while the cell phone count will have risen to nearly 1.82bln. devices. Gartner claims that a great number of webpages will have to be optimized so as to become suitable for proper visualization on a small screen, plus the use of social networks and functions and location-based services (searches, augmented reality-based etc.) will be sky-rocketing in the next few years.
We agree with the forecast to an extent – certainly, surfing the Web on the latest smartphones has become a truly enjoyable experience indeed, plus the evolution of browsers has been picking up speed. Still, we believe it´s rather the cell phone software that will be optimized to visualize web pages in much the same way computer browsers do (the support of
Flash 10.1
is just a step in the right direction) than see too many companies rework their websites to make them more cell phone friendly. And what do you think? Please, share your opinion in the comments below.
source:
ME