Cell and Wi-Fi service being built for L.A. subway riders
2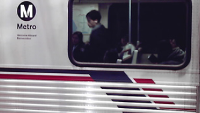 Monday, the The Los Angeles County Metropolitan Transportation Authority broke ground on a project that will eventually offer cellular service and Wi-Fi connectivity to subway riders 80 feet beneath the surface. By May, four underground stations of the Red Line Subway will offer a Wi-Fi signal with cellular service coming to the tunnel by August. 150,000 riders each day use the Red Line.
Wi-Fi signals will be available at stations only, while cell signals can be used at the stations and on the trains even as they are moving. The project is expected to cost $800,000 and take 2 years to finish. There are three different phases. Following the first stage of construction, listed above, the second phase will install Wi-Fi at four Red and Purple Line stations including Westlake to Wilshire, Western and Wilshire, Vermont to Vermont, and the Sunset station. Cell service will be available for these riders by June 2016. The third stage will bring Wi-Fi to the terminal for the Red Line in North Hollywood and in the Gold Line tunnel sections of Pasadena and East L.A. by November 2016. Cell service in those areas will start in March 2017.
The work was held up until the Los Angeles County Metropolitan Transportation Authority arranged with carriers to make sure that terrorists could not trigger a bomb in the subway by pressing a key, calling a certain number, or tapping in a code on a smartphone. And while this is not necessarily the fate of the system being built in L.A., in San Francisco, BART recently closed its Wi-Fi service although cellular service remains popular.
Once the service is up and running in L.A., passengers on the subway will be able to dial 9-1-1 in case of emergencies.
source:
LADailyNews
via
Verge
,
Engadget