Cat B15 rugged Android smartphone hands-on
4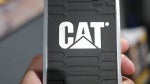 Introduction:
The name
Cat
might not look familiar to many people, however, it's something that surely stood out amongst the other gadgets that were being shown off at the
ShowStoppers
press event in Las Vegas for CTIA. Now, if you're in the construction industry, the long form of the name will absolutely ring some bells, as it's the same company known for those ruggedized caterpillar construction vehicles. Partnering with Bullitt Mobile, the
Cat B15 smartphone
is setting its crosshairs in the always-competitive ruggedized smartphone market.
Display:
Considering that Bullitt Mobile is entering new territory, you'd think that they would know what kind of display it'll take to get people talking. However, that's not the case here with the Cat C15 smartphone's display. On one hand, some people will appreciate the smaller sized
4-inch LCD display
with Gorilla glass that's sporting, but considering that
WVGA (480 x 800) resolution
is hardly a head turner nowadays, it doesn't particularly come off as the sharpest thing around the block. Moreover, its weak viewing angle causes some
noticeable distortion
at extreme angles. Certainly, it's regarded as mid-range more than anything else, but it's worth mentioning that the display
features wet finger tracking
. Therefore, if liquids are accidentally splashed onto it, or if you're known to constantly wash your hands, you can be rest assured knowing that the display will still recognize all touches and swipes.
Design:
At first glance, we thought that Cat B15 smartphone was some kind of ruggedized case, due to its mashed up color scheme. However, it becomes more evident that the design is based upon some of the many construction vehicles that Caterpillar is known to manufacture. Obviously, it's not the most flattering or stylish design out there, which is made more prominent by its
thicker casing and beefier looks
, but then again, it's all about soundly providing sufficient protection to the handset – so that's why it has a very
tank-like design
to it. Employing what appears to be an aluminum skeleton combined with a thick rubberized rear casing, the design screams construction crew in every way imaginable. Ultimately though, it proves it's worth in the ruggedized department, since it's
IP67 certified
for protection against
water submersion
under 3.2 feet of water for up to 30 minutes. Oh yeah, did we mention that it's also dustproof, scratch resistant, and shock proof too?
Interface:
Sure to put a smile on many faces, the Cat B15 smartphone is running a mostly vanilla
Android 4.1 Jelly Bean
experience – so you get the most faithful Android experience as possible out of the box. Combined with a
dual-core 1GHz MediaTek MT6577 Cortex-A9 processor
, it seems effective enough to execute most basic tasks based on our quick assessment. Still, we have this uneasy feeling in the back of our minds that more processor intensive operations might very well give it some challenges.
Expectations:
As you can imagine, the Cat B15 smartphone is aimed to target a specific audience – as opposed to being a mass marketed smartphone. For those out there concerned about longevity and sturdiness, they'll surely be attracted to the wealth of rugged aspects seen with the Cat B15, however, its design is sure to confuse many people into thinking that it's a smartphone trapped inside of a hideous looking case. Underneath it all, the handset is being made in
GSM
form for the outright price of
$349
online – with the possibility of seeing this being made available through a major wireless carrier sometime in the near future.