Casio Gz'One Ravine is the next rugged iteration for Verizon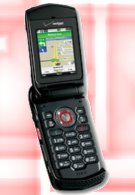 In traditional fashion, it's just about that time when we start to see some sort of new rugged device from Casio's camp for Verizon. And without further wait, Big Red officially introduced the Casio Gz'One Ravine which is the latest flip style rugged handset for those individuals who really require a tough handset that'll handle the most brutal of punishments.
This isn't the kind of normal wear and tear we're talking about, specifically, the Ravine will endure some extreme conditions since it meets mil-spec 810G so that it's protected against extreme temperature, moisture, vibrations, and dust. Additionally, it features a
3.2
-megapixel camera with LED flash, VZ Navigator for your location needs, and push-to-talk service to always keep in touch with your crew. Not ending there just yet, the Ravine also manages to pack on a thermometer and a compass – all of which will cost $150 after a mail-in rebate with a new 2-year contract.
However, there was no explicit mention of a date when the handset will become available except for the fact that it'll be "soon."
Verizon Wireless Casio G'zOne Ravine Specifications
source:
Verizon