New Casio Edifice watch can connect to your phone while looking classy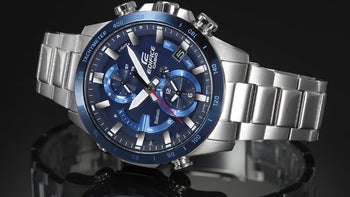 If you're not impressed by today's smartwatches, and instead want a classic watch with the ability to connect to your phone, Casio has something for you. The company just announced the Casio Edifice EQB900 (seen above), an elegant timepiece that will be released in the US sometime in April.
Priced at $320, the Casio Edifice EQB900 can connect to a wide range of smartphones via a dedicated Bluetooth button and a Casio Watch+ app (available on both Android and iOS). Thanks to this app, the watch gains features like automatic time adjustments, World Time for over 300 cities, stopwatch data transfer, and even a phone finder function.
The new Casio Edifice is water-resistant up to 100 meters (328 feet), and includes solar panels that can charge its battery with power sent by the sun, our giant friend from ~93 million miles away. Normally, the watch's battery can last about 5 months "without exposure to light after charge."
Casio says it'll sell the Edifice EQB900 via its own online store, as well as through select jewelry and watch retailers. Interested?