Carriers offloading traffic to Wi-Fi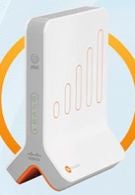 We all know that our phones aren't always as fast as they should be. That's because the increase in smartphone use, and the improvement of their technology, have increased the burden on wireless carrier networks. Cell phone companies are now placing Wi-Fi units at the tops of buildings to offload up to 20% of signal transmission.
"AT&T is doing it big time...It's an easy way to offload traffic," says Selina Cho of Ruckus, a Wi-Fi equipment company. Placing such Wi-Fi units in overburdened areas is cheaper and faster than building additional cell towers. AT&T already extended this offloading effort to individual homes, selling
MicroCells
that divert wireless usage to a the home's local Internet connection. Although the purpose of the MicroCell is for signal strength in low-signal areas (i.e. many areas), it also unburdens the carrier overall.
AT&T already has more than 20,000 hotspots in the US, which consumers often use for data instead of their carrier's signal. Carriers can now follow suit for their traffic (data and voice) and avoid having to build a skyline of expensive cell towers.
source:
The New York Times
via
Textually