AT&T's 3G MicroCell goes nationwide the middle of next month
This article contains unofficial information.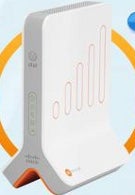 AT&T has announced that its femtocell model, the 3G MicroCell, will be made available nationwide starting in the middle of April. After months of testing, the carrier has decided that the device is ready for use from coast to coast. The unit itself will start at $149.99 for 3G voice and data service. Up to 10 handsets will be supported by the MicroCell with 4 simultaneous connections allowed. Customers can decide to have the minutes used deducted from their AT&T calling plan, or they can pay $19.99 a month which will allow for unlimited use of the MicroCell without taking minutes away from their current voice plan. If you decide to pony up the $19.99 each month, AT&T will give you a $100 rebate on the device, bringing the cost down to $49.99. You can also choose to add on the carrier's broadband services (DSL or U-Verse 1.5MB or greater) and grab a $50 rebate. That would bring the cost down to $100 for the MicroCell with just the broadband. Or, if you take both offers-the unlimited plan and the broadband-the cost of the 3G MicroCell would drop to a very affordable $0. The device works on any AT&T 3G phone and supports a secure 3G voice and data connection for 5000 square feet. So if you're one of those people with an AT&T handset who is always complaining about your poor signal at home, here is a chance to grab a strong connection to your carrier.
source:
AT&T
via
BGR