Are you in the path of Hurricane Dorian? Here's what the major carriers are doing for you
20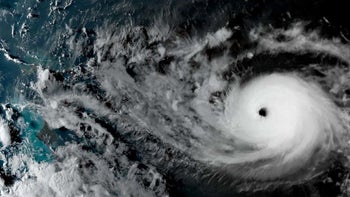 Hurricane Dorian is a powerful storm that will leave destruction in its wake. Floods, power outages, and destroyed structures are some of the things that we can expect the storm to cause. Lines of communication might be cut, although with any luck cellular networks will remain up and running. As usual in the case of a natural disaster, the four major carriers are offering those in the path of Dorian some breaks as far as their wireless service is concerned. In addition, the wireless providers are bringing their mobile cellular assets into affected areas in an attempt to keep cellular service up and running in the midst of the hurricane. Some of the equipment that the carriers are moving to the area include COWs (Cellular on wheels) and COLTs (Cellular on light trucks).
Yesterday,
Verizon announced
that its postpaid, prepaid and business customers in the path of the hurricane will receive unlimited calling, texting and data from Monday, September 2nd to September 9th. Verizon retail stores will remain open so that customers can charge their phones and receive assistance if needed.
Buy some extra power banks and have them fully charged before the storm hits

"Floridians are in our thoughts as they get ready for Dorian to make landfall. We know that people have a lot of work to do in order to prepare for a major hurricane, and this is one small thing we can do to ensure they are able to connect worry-free before, during and after the storm."-John Granby, president, Verizon's Consumer Group South Area
A tweet from AT&T
on Friday said that the carrier will wave data overage charges in Florida between September 2nd and September 8th. Essentially, that will give all of its customers in the path of the storm unlimited talk, text and data. But the change in the storm's projected path led the carrier
to publish a new blog post on Saturday
. In that post, AT&T said that in addition to waiving data overage charges in Florida, it will also do so for its subscribers in Georgia, North Carolina and South Carolina.

AT&T disseminates a tweet to its customers affected by the storm
"Customers rely on us, especially during major storms. That's why we practice readiness drills and simulations throughout the year and do all we can to have our networks prepared when severe weather strikes. At this point, we are actively working to position equipment and crews, and are ready to respond to support our customers if needed."-Joe York, president, AT&T Southeast
Sprint, in a blog post published on Friday before the change in the storm's projected path, said "to assist customers in Florida in the areas expected to be hit hardest by the storm, we will waive call, text and data overages for Sprint customers from September 2-8, 2019."
Meanwhile,
T-Mobile's blog has a post written on Friday
that points out that its customers on Magenta, T-Mobile One, or Simple Choice plans already have unlimited talk, text, and data. Prepaid customers using Metro by T-Mobile also have unlimited talk and text on all plans.
"T-Mobile teams continue to keep a close eye on Hurricane Dorian as it makes its way toward possible landfall in Florida early next week. Our teams are preparing equipment in north, central and southern Florida to make sure we are able to quickly mobilize as needed after the storm."-T-Mobile
To help you get through the storm you should go to a Walmart or Best Buy near you and buy some power banks. You might even find some 10000mAh banks available at Walmart for a decent price. Power them up fully before the storm hits and purchase some extra charging cables. Also, make sure that your phone supports Wireless Emergency Alerts and that notifications have been enabled on your device. Most of all, stay safe.