Carriers' LTE revenues to reach $200 billion by 2015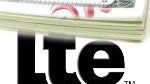 With US and Japan being the early adopters, Juniper Research is forecasting the whopping
$200 billion
of LTE-generated revenue in the next three years. US, Japan, Western Europe and China will account for 90% of it, and more than a half of the revenue will be coming from business users, at least until 2015.
No surprise there, considering Verizon is charging $80 for 10GB a month, this price is only justifiable if you can recuperate those costs in a business environment, or if you have money to burn and no other options for getting your broadband fix. Juniper Research also notes that in its report they break down three usage scenarios. In a high usage one, the carriers' ARPU (average revenue per user) from LTE services is
double
what the telcos are getting now.
Spectrum auctions for LTE bands do not start until 2012 in some European countries, so
Verizon's vast "4G" network
that just rolled out, and NTT DoCoMo's in Japan, which fires up December 24th, will be the LTE trailblazers for quite some time.
via
IntoMobile